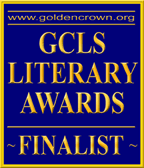 In 2008, Butch Girls Can Fix Anything won a Golden Crown Literary Society's Debut Author award.
Sorry, this book is not for sale at the moment. Sign up for the Announcement List to be at the front of the line when it goes back up for sale!
Reviews:
Golden Threads, a publication for "Lesbian women over fifty, and their younger Lesbian friends", reviewed BGCFA in their September 2007 issue! Reprinted here with permission.
After a disastrous partnership and break up, Kelly Walker moves to Asheville, NC and starts her own 'fix-it' business. She has a great reputation for being able to fix just about anything. However, this "nose into business" lifestyle also allows her to avoid looking at some of her own very deep emotional problems. Along the way, she meets Grace Owens and her 9 year old daughter Lucy. They are equally attracted to each other but are afraid to do anything about it. When Kelly's pent up rage at her abusive ex explodes into self-damage, Grace realizes just how much she cares for Kelly, but is it reciprocated? This story is populated with just the kind of lesbian friends every womyn needs. They're loyal, dependable, cheerful, fun and supportive of each other. The story is humorously told making it a fun read. I think even more so for me because the locale for the story is Asheville, NC. – a place that describes itself as normal being weird. I hope that Ms Offutt will continue this story, and soon, as I'd like to know what happens to Grace and Kelly.
Jean (over at Rosestar's Register) reviewed the book on 8/24.
Finally a book about regular people. No one in this is exceedingly wealthy or drop dead gorgeous. It also, unusual for most books, offers us a secondary character with a disability. (or to be politically correct…physically challenged)

I'm generally not a fan of stories with children in them, and was surprised to find that Lucy, the nine-year-old daughter of Grace, stealing the scenes. My partner and I both laughed out loud at Lucy's comments and actions.

This seemed more like a story about people I know, than fiction. While it didn't pull out the strong emotions (heavy angst or heart throbbing love) that some books do, it was a complete and very enjoyable read. It was quite a step up from most first novels. I am very much looking forward to her next, and future novels; especially if she keeps writing about people just like us. Be sure to Paula on your list of "authors to watch for."
BGCFA was reviewed by Books To Watch Out For. An official review by an official reviewer and they liked it! From Lesbian Edition of Books to Watch Out For, Volume 4, Number 2.
Paula Offutt's Butch Girls Can Fix Anything was quite fun. Kelly Walker is the local fix-it butch, whose business keeps her busy after the death of her lover. Her good friends and neighbors Kaye and Annette lease one of their rental houses to Grace Owens, mother to nine-year-old Lucy. Rental units often need fixing you know, as do broken hearts… As I said, this book was fun, with wonderful characters, including several dykes who are wheelchair users – all too rare in fiction. Butch Girls Can Fix Anything is the kind of story that clearly illustrates the concept of "family of friends," and it's lovely. My only beef is with the title – most butches I know would take great exception to being referred to as "butch girls." But it's a small beef about an otherwise entertaining story.
Paula Offutt (that's me) and her book are mentioned on the North Carolina Writers' Network website on their "Hat's Off" page.
…to Paula Offutt whose debut novel, Butch Girls Can Fix Anything, was released January 10th, 2007. The press release can be found on the publisher's website, Regal Crest Enterprises. Jan 1
---